Some more et cetera mammals–this time the cool, exotic jungle kind:
Tigers need to get into that Nativity scene more often, i mean it just looks chill with that stripey killer lying beside the Baby Lord… or is that just me? Okay, see how nuts this gets with the "Christmas Japan Tiger-san Song" as posted by Ergesr Mikasoraesa. Hello, kitty.
Now i don't think we need to get any more hippopotamussier than we have already, so check out same formula with an even more hilarious (bigger) "I Want an Elephant for Christmas" by the Peter Pan Carolers.
But if you want a Real Song on the topic, lets take a moment for Hank Thomspon and "I'd Like to Have an Elephant for Christmas." Yee haw, merrily on down.
[And we've already gone into the Heart of Darkness with Les Paul and Mary Ford with "Jungle Bells (Dingo Dongo Day)"–though i'd go there again.] But let's segue that into The Superions starting the conga line with "Christmas Conga (Jungle Bells)." Not many animals, but do the watusi!
If you want all the animals in one place, let Bah & The Humbugs lead you through "The Christmas Zoo." It may make you do a childish little dance.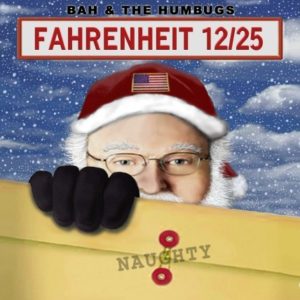 Some wild animals have been sadly house-broken. Curious George brings us, Grey Griffin as Betsy sings to us "Our Christmas Monkey." But her question remains: why no Christmas monkey song?
Answering the question, in fine 'sixties pop-rock style, are The Barbary Coasters with "I Want a Monkey for Christmas." Those kids are going to be in so much trouble! But somehow i feel like surfin'.