One repetitive gag for the good ol' fruitcake song is the receptive concept of regifting this puppy. Spoiler alert: you give it away forever! You might get it back! It's in the postal system for eternity! Heangh-hrrou!
Plank Road Publishing has an entry here."Everlasting Fruitcake" is a bit more fast paced than their usual careful constipation for dumb little kids. I could dance to this one.
Pat Boone is so old by now we can't tell if he's phoning it in, or if he's being puppeteered by greedy descendants when he sings (makes up) "The Fruitcake." Give the geezer credit, with this ratatat listing of everyone who regifts, he's going for stroke.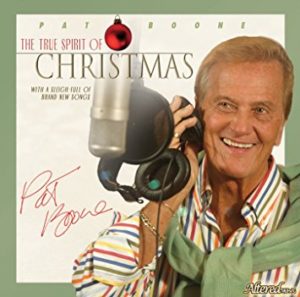 The San Francisco Gay Men's Choir whoop it up with "Recycle the Fruitcake." The pageant is the thing wherein we'll lampoon every queer stereotype with a winkity-wink in-on-it we can flounce it and you'll never really get it costume excess-roy. Hoo boy.
Duck Logic Comedy overplays the joke with "The Fruitcake (I Hate Fruitcake)." And it takes half the song to get to the revolving part of the joke. But more musical talent than humor wins out here.