If you want just rum in your holiday liquor cabinet you usually rely on rhymes with drum (pum pum pum). But some rummies wanna go straight up with Caribbean Tom Thumb. Yo ho ho.
Ho hum rum songs include Bah & the Humbugs playing slacker elves deifying the demon rum. The humor of that obvious inappropriateness is lost in this loungey sing-a-long. "All You Need is Rum" is a fun song to spring on the unaware, but not to rotate into your novelty selections.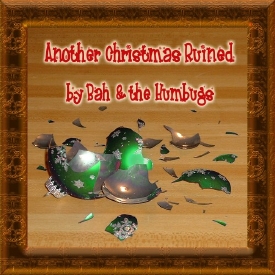 Joseph Michael Young meditates sadly on his only friend "Holiday Rum." It's a plaintive prosody.
Jimmy Buffett tries to Gulf it up with gusto in "Ho Ho Ho and a Bottle of Rum." But this shaggy dog about Santa needing a (drinking) break reflects on middle-aged sadness in a 2nd-stage of wistful drukenness and self worth crisis.
A punk twist on the title comes from The Cucumbers. "Ho Ho Ho and a Bottle of Rum" here is a great earthy, naughty chant begrudging nuthin off the pirate allusion. Damn Santa.