If one dance gets more than its share of holiday closeup, it's the twist. Y'know Chubby Checker's hop.
Now the real stuff, the straight dope, sounds like The Twisting' Kings and "Xmas Twist." It's rock with a Detroit soul, but it's sincere. It means Y-O-U.
Low key style Los Straitjackets mumble out their "Holiday Twist" so you can catch up to it at any time. Just a warm up.
Usually hilarious, Dave Rudolf tries to sugar coat a mechanical clunker of "Candy Cane Twist." That sax player wandered in from another song.
Unfortunate as well, The Fairies offer "The Christmas Twist" tentatively as if not sure if we're allergic. (I am.) This is not rock.
As playful as a puppy with a drum set, Jay Matty lays out his "Merry Twistmas" with a loud backup and a wandering vocal register. So long as you dig he wants you to dance, it's copacetic.
The respectful update befalls us from Si Cranstoun. "A Christmas Twist" is downright gospel  rock. Amen, scantily dressed twisters.
Syd Straw also modernizes "Christmas Twist" this time with more gnarly electric guitar. Too pretty to really be rock, call it country.
Jack Rabbit Slim treis to recapture "The Christmas Twist" with mush mouth play. Seems idolatrous.
John Rossall simply supplants the original song with the word Christmas. "Christmas Twist" looks like something i got last year.
Cleanse your palate with some tasty bluesy Charlie Starr: "Christmas Twist" is slight and unassuming, but true rock 'n' roll.
Dance music today is not the dance music of the twist, but if we twist 'em up together we get a party. Follow the Dino Martinis with their "Twistmas." Yeah, baby boomer, yeah!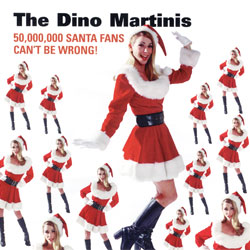 From the movie 'Twist Around the Clock' the Marcels lip sync their seminal "Merry Twist-mas." Yeah, boy. Now it's happening.