Let's get inside the stable with the real manger-ettes finally.
Santa's helping at the Gilmer Dairy Farm in "The Gilmer Dairy Farm Christmas Song." Will Gilmer sings up a bucketful of 'Jingle Bells' parody with cows in mind and it's worth half a listen.
Cattle drives gotta happen first, o' course. Cowboy Greg & The Done Goods yodel out "Cows Love Christmas" with that open range fantasia that usually precedes delusional seizures and death.
Bringing the hoofed ones home for the holidays Daniel Gould of Music Tech Group, solemnizes "Give a Cow for Christmas." This rocks and feeds back and, i guess, postulates that poor people could use a burger as a gift this time of year. Hmmmm.
But we must pause and salute the greatest cow novelty Christmas music album of all time: It's a Cow Christmas by Terry Esau. This True Christian went a little nuts in the best possible creative way cranking out parody after parody of carols with a taurine twist or two. Check out "God Rest Ye Merry Cattlemen" (reverential)
and the best of the herd: "Santa Cow." It's disco meets rap meets country meets trucker rock. Mooo, boy.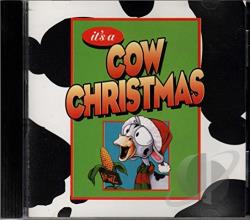 Axis of Awesome comes to the rescue with a real Nativity four-footed number. "I Love Being a Cow" may have a sudden turn to watch out for though. Watch out.